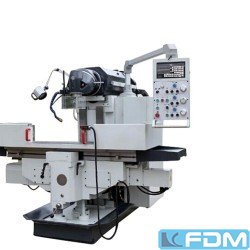 Knee-and-Column Milling Machine - univ.
KRAFT MU-50
Stock number:

1124-95125

Year / Condition:

Fabrikneu

Control unit:

conventional (auch mit Siemens/Fanuc/Fagor)

Country of origin:

Freight basis:

Item location:

Delivery time:

ca. 3-4 months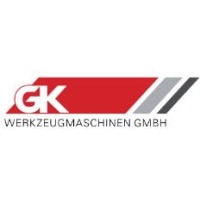 Picture / documents / videos
Technical specs
Details
x-travel:

1200/1500 mm

y-travel:

700 mm

z-travel:

500 mm
500 x 1600 mm (Option: 500x2000) mm

max. table load:

1800 kg

T-slot (width-distance-quantity):

5 x 18 x 80 mm

spindle taper:

50 ISO

turning speed range:

(27 Stufen) 30 - 2050 U/min

distance spindle nose and table:

25– 525 mm

feeds:

X/Y/Z: 10-1000 / 10-1000 / 5-500 mm/min

rapid travel x/y/z:

2200 / 2200 / 1100 mm/min

power capacity:

7,5 kW

weight of the machine ca.:

5 t

machine dimensions LxWxH:

2475 x 2260 x 2180 mm
Accerories
universal milling head:

manuell schwenkbar, 360°

DRO

central lubrication

halogen lamp

European electric

CE-design

Servo motors:

in allen Achsen

spindle protection
Description
Features
? Servo motors drive for X, Y, Z three axes
? Handwheel can be equipped for easy tool setting and smoothly axis moving
? Robust & rugged machine body made of high grade casting assuring superb stability and long lasting life.
? Fine elaborate workmanship with great care and neat appearance with perfect paint finish.
? Precision-ground guideways with hardened surface for long-term accuracy and wear-resistance.
? preloaded ball screw with zero backlash for easy and precise feeds
? simultaneous axis movement
? Turcite-B coated guides
? dovetail guide on X axis
? square guides on Y, Z axes
? swivelling control panel, fully equipped with all operating controls
? automatic lubrication
? spindle brakes
? equipment according to CE
? Large work area of 500x1600mm, opt. 500x2000mm and up to 1800 kg table load capacity.
? Vertical universal head rotates 360° for versatile cutting performance.
? High speed vertical universal head firmly fixed on ram for robust & heavy cutting performance.
? Separate button for rapid traverse of axes, aside automatic feeding, for easier operation and less idle time.
? Compulsory lubrication of horizontal milling spindle transmission gears for smooth running.
? Modular design with wide options for diverse needs: 2-axis DRO unit, 3-axis DRO unit, table guards, spindle guards, indexing dividing heads, various clamping kits, vices, tool holders, etc.

machine vice
round table, manual
milling and boring equipment
CNC controls from
Semi guarding

Contact seller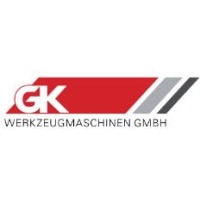 GK Werkzeugmaschinen GmbH
Lindenstr. 2164589 Stockstadt Phone: +49 6158828671Fax: +49 615886931
Further machines of this dealer