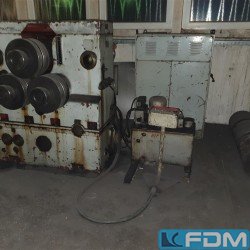 Profile-Bending Machine
Strojarne Piesok XZP 100/12
Stock number:

1087-0100037

Year / Condition:

1981

Control unit:

conventional (konventionell)

Country of origin:

Czech Republic

Freight basis:

EXW, free on truck unpacked

Item location:

Leipzig 4

Delivery time:

immediately
Picture / documents / videos
Technical specs
Details
voltage:

220 / V

total power requirement:

ca. 14 kW

weight of the machine ca.:

4,5 t

dimensions electric cabinet LxWxH:

1,0 x 0,64 x 1,4 m

dimension machine approx.LxWxH:

1,5 x 1,6 x 1,55 m
Description
Die Maschine befindet sich derzeit in der technischen Abteilung!

The machine works on two gear stages: 0-4 rpm and 0-6.5 rpm.
- 1x bending roller and 2x drive rollers
- Bending roller vertical adjustment 140mm, profile 70 x 25mm
- Drive rollers center distance 360mm, without profile
- 2x support rollers ( right/left ), 45 ° position, swivel approx. 10° right/left, vertically adjustable 200mm by hand lever, extendable via hand lever
- Right and left rotation of the rollers

Equipment:
- Hydraulic unit
- Control panel

accessories:
- Tools/rollers are available, see comparable photo with list
i.D.
Contact seller
WMW AG
Messe-Allee 10a04158 Leipzig Phone: 0049 3415204613Fax: 0049 3415204617
Further machines of this dealer